Vertical gardens and living walls are by no means a new fad. We are thinking old English country mansions covered in ivy, vibrant Bougainvillea adorning Mediterranean courtyard walls; or in fact, the fabled Hanging Gardens of Babylon.
Recently though, creating green spaces and the use of green walls and vertical gardens has seen a real renaissance. With diminishing space for traditional gardening, urbanisation, climate change affecting farming and a growing desire to support locally grown produce, it's been picked up by architects, urban planners, and hydroponic farmers around the globe.
And of course, this has also led to a real boom in homegrown, DIY, simple gardening projects, creating charming, restful corners or delivering the freshest of produce straight from your balcony to your kitchen table.
So, without further ado, here's our motivational vertical garden project list for you. With DIY ideas for your own piece of paradise and inspiration from around the globe. In no particular order:
The potted vertical herb garden
This might be the ultimate green wall for your balcony. How cool will it be to have fresh herbs at the ready to add that extra sprinkle of flavour to your dishes. A simple way to achieve this is shown here with a wall of terracotta pots hung on a reinforcing steel grid. But a simple piece of trellis will work just as well.
Jazzing up your entry
This path leading up to the front door could have easily been leading past an ordinary white wall or an unsightly boundary fence. Instead a lush, living mural has been created with a variety of carefully chosen plants and shrubs. Plants have been positioned well and making use of the full height and length and the minimal ground space it does have. This does need a smidgen of a green thumb to set up, but we think it has the wow-factor.
Porch dreams
This is how to create a romantic and secluded space on your porch, or balcony! Ok, we really love the seat, perfect for a balmy summer evening with good company or a good read. But the living wall is the icing on the cake here, with a variety of plants and evergreens providing the perfect backdrop and also privacy from neighbours.
Strawberry walls forever
There's nothing quite like the taste and feel of a freshly picked strawberry. One that has fully ripened and is still warm from the sun. The planters here are perfect for a small patio wall. Wide enough at the top and narrowing at the base, they make the perfect hanging pots for strawberries. Find a sunny wall and get ready for fresh summer berries.
Upcycling projects
We fell in love with this project because not only do you end up with the freshest of homegrown produce, you'll also have a real show stopper in your garden or on your patio. What a great way to recycle an old door and a couple of old tubs. Add your favourite lick of paint and pieces of pottery and voila: garden art with a mission!
A natural wrap
It's not everybody's cup of tea and you'd certainly want to ensure you pick the right climber, but we love the look of these green walls. They seem to wrap the entire home like a warm blanket and we can only imagine what this house will look like in autumn!
Minimalist with a side of quirky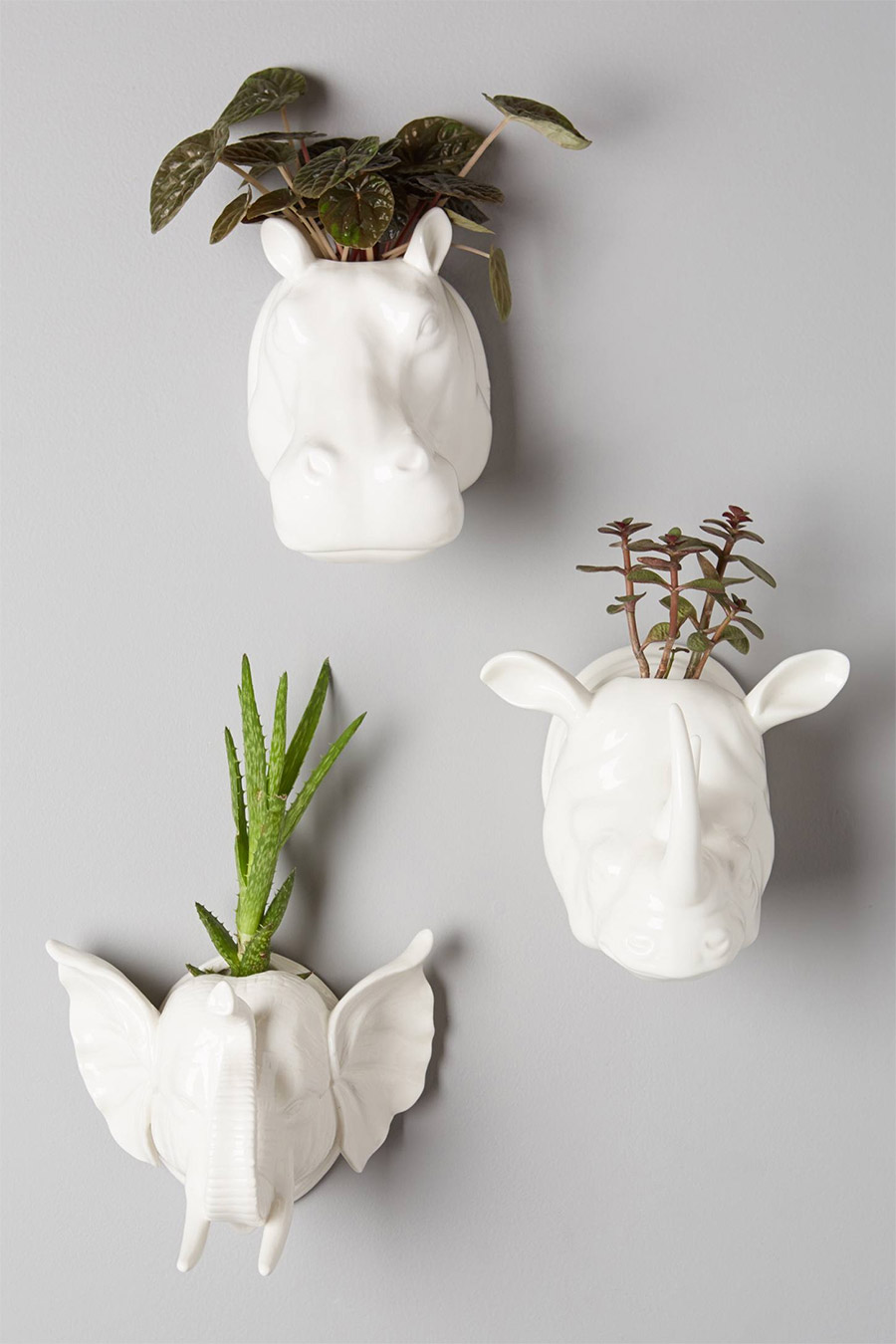 Here's a different way to create a focal point! We love these wall planters with just enough 'headspace' for a succulent. This African safari is an awesome alternative to your run of the mill pots and vases!
Stringing the garden along
Although this photo was taken in Sao Paulo, it could be anywhere, and it'll work just about along any wall. It comes down again to choosing the right spot and the right plant and to providing good support for your plants to climb. Such an effective way to brighten up a space with foliage.
The pocket rocket
Another great way to create an easy, inexpensive wall of fresh herbs, small vegies, and microgreens. What we like about these pockets is that they will hold moisture well and can fold away easily during the colder winter months.
Learn from the best
It's not just food that Italians do best. They certainly also have an eye for beauty and design. This photo was taken in Umbria and to us it exemplifies the art of creating beautiful corners, adding unexpected pops of colour and effortlessly making the most of small spaces.
Succulents reframed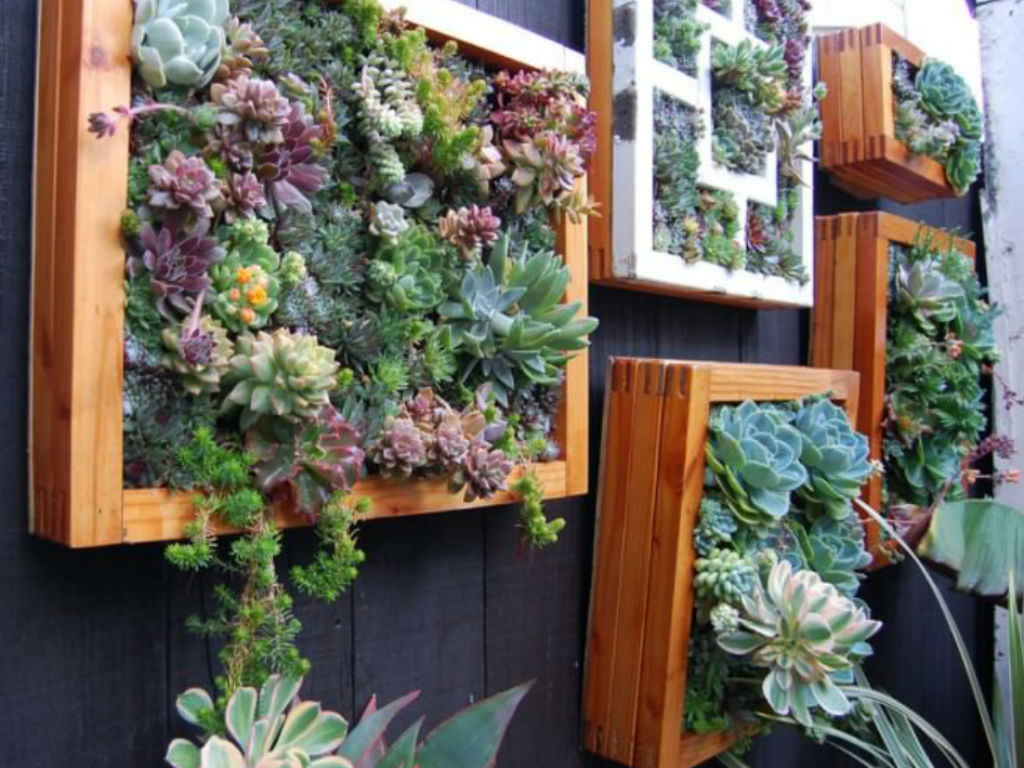 An easy DIY weekend project for the whole family. Succulents come in a great variety of shades of green, shapes and sizes. And they are super hardy, so won't need a lot of attention to thrive. Have fun choosing your favourites at your local market or garden centre, then planting them in a meshed frame. This will look good anywhere, indoors, or outdoors.
Living wall inspiration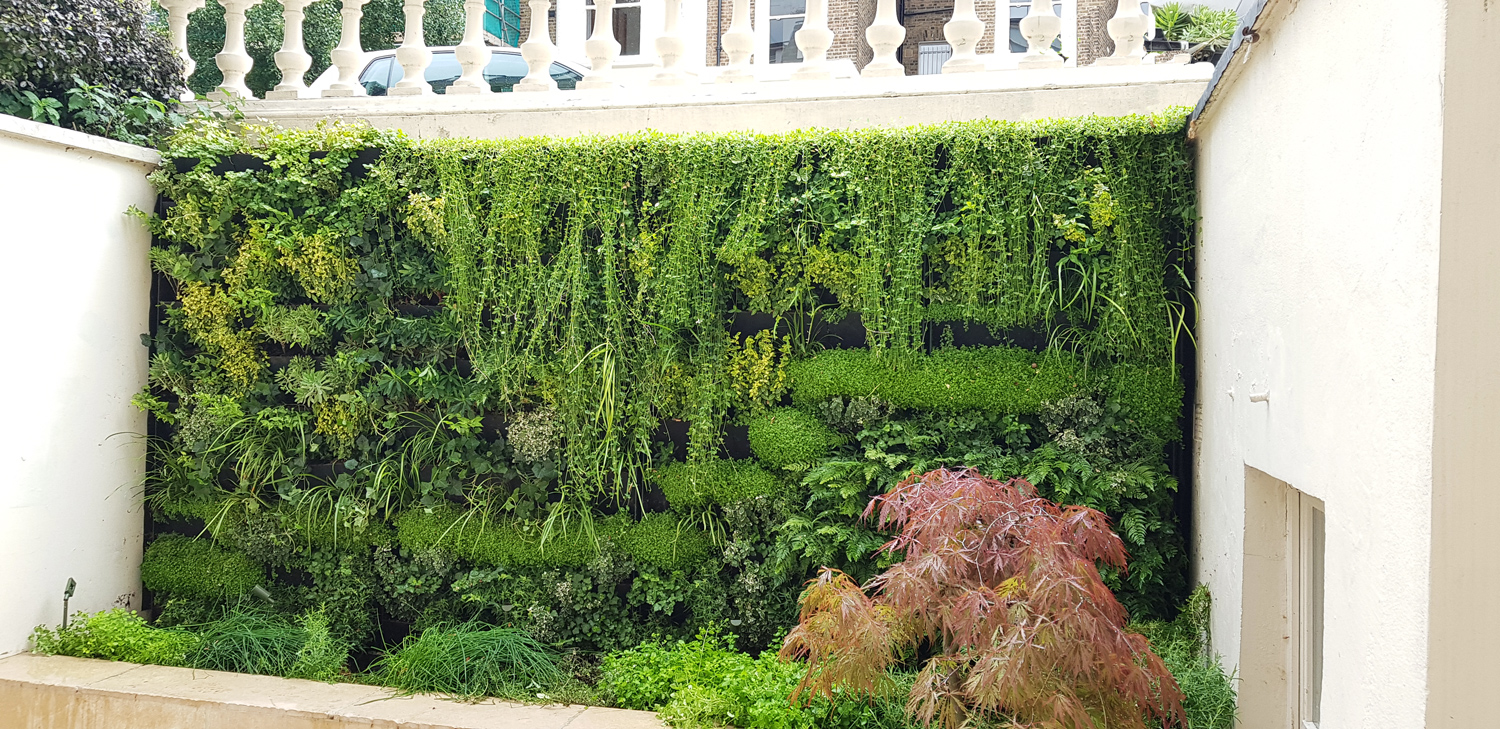 We've added this one for inspiration and perhaps aspiration. It's certainly not your average weekend project but needs some clever planning to create such a peaceful place. This living wall is in a shop and provides a beautiful focal point and waiting space in an otherwise quite stark, windowless space.
Room with a view
What a great use of space! Some simple shelving, a lick of paint and cleverly arranged pots and ornaments have transformed this window into a very personal, interesting focal point. What might otherwise not lead to much of a view, is now quite a charming part of this room.
Not all walls are created equal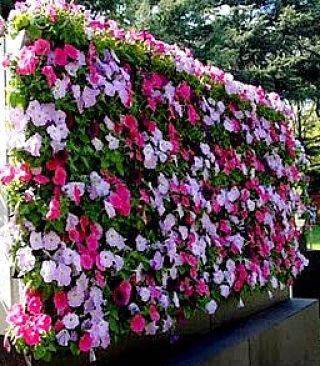 Who said a living wall had to be green! Here's a great example of a stunningly rich flower wall in full bloom. Check with your local garden center which plants will work best in your area. We are thinking pot plants and plants that thrive in hanging baskets and borders. This one will need a bit of work to look that good, but the result is so rewarding.
When indoor space is at a premium
Are you living in a small apartment and trying to fit in some greenery for the soul? Here's the perfect solution. A simple DIY project with some terracotta pots, rope and wood for your hanging plants, herbs or some potted colour. Not only will these hanging pots fit snuggly into any corner, you also needn't worry about dripping water all over your carpet, it'll just run from one pot to the next!
Can't get more local than that
If 2020 has taught us anything it's to put Plan B into action; and we really like this Plan B. It ticks all the boxes. Fresh produce grown locally. The planters are made out of sustainably grown bamboo, they look fantastic and can be set up in a small space. With a bit of love, this wall garden will give you continuous fresh, homegrown and organic produce; from your patio or balcony straight to your kitchen table.
What to do with wooden planks
What a lovely way to use up some wood cut offs or spare planks from a wooden pallet. We love the creative way in which they've used the wood here to hide the actual pots behind it. This makes for a lush display of greenery the length of the wall, together with some cleverly arranged pot plants.
How to make an entrance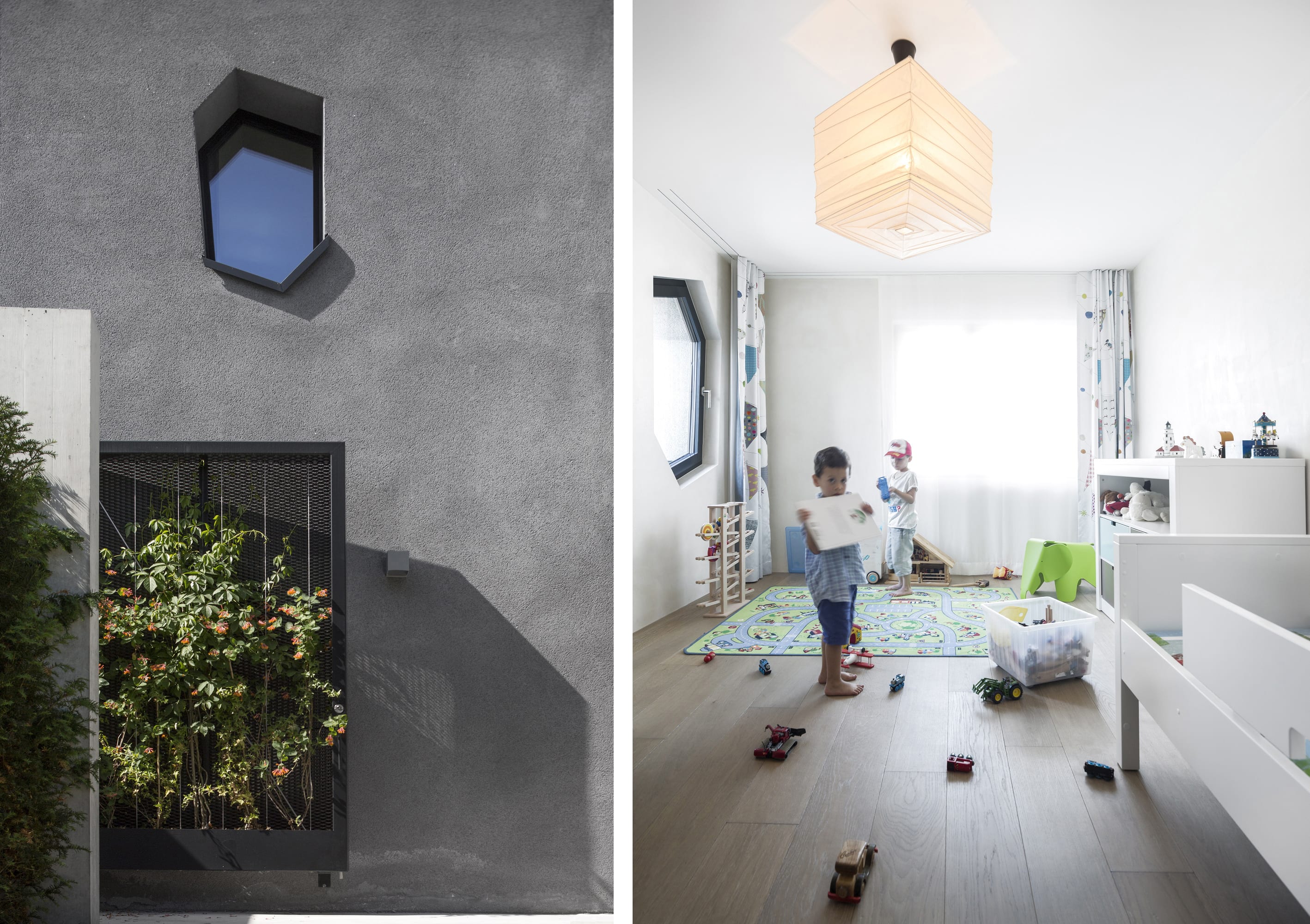 What a lovely welcome, this living door makes. On rollers, with a good-sized container at its base and a wire trellis the length of it, it's a great way to take this gate from purely functional to something ornate and extraordinary.
It's what you do with it darl!
OK, we admit it: this is not the project for the faint hearted. This needs a bit of planning in terms of space, plants available, position and framing. But we hope it serves as a great example of what can be achieved with a variety of ordinary pot plants and climbers and a bit of planning.
Waste not, want not
What a funky idea! Don't throw away your cans of tinned tomatoes but give them a new lease on life as pots for your little hanging wall garden. This must be one of the most inexpensive ways to create a small herb and plant garden with a bit of attitude.
Unexpected charm
Someone managed to grow this gorgeous plant from the tiniest square of soil – but what an effect this has. This wonderful climber adds an amazing pop of colour to this otherwise ordinary house front in Gozo, Malta. Such a simple way to make this entrance extraordinary!
Simple but effective
Here's a great indoor version of your hanging herb garden. Consider adding these pots instead of your kitchen utensils and having your fresh herbs exactly where you need them. Add a small piece of foam to the bottom of these steel containers to help with drainage.
The ultimate pallet challenge
Don't you just want to sit here in this blooming little space with a cool drink? You can almost smell the fragrance of from the riot of blooms. We love the use of pallets on the walls, the variety of potted flowers spilling out from everywhere and the layers of planting achieved through various planter boxes. Really inspiring; definitely achievable.
A spot of jungle
Here's a really easy and simple way to bring the jungle inside. This works well even in the smallest of places. There are some amazing ferns, such as Nephrolepsis, that will work really well for this kind of planting and will add instant lushness and green goodness to any room.
Just had to add this one!
OK, so this is probably not possible everywhere, but we just loved the simple but effective idea behind it. This would make good use of an old washing line we reckon. Totally inexpensive, easy to set up and utterly rewarding. No more bending down to get your vegies either.