Pet Safe Flowers for Cats and Dogs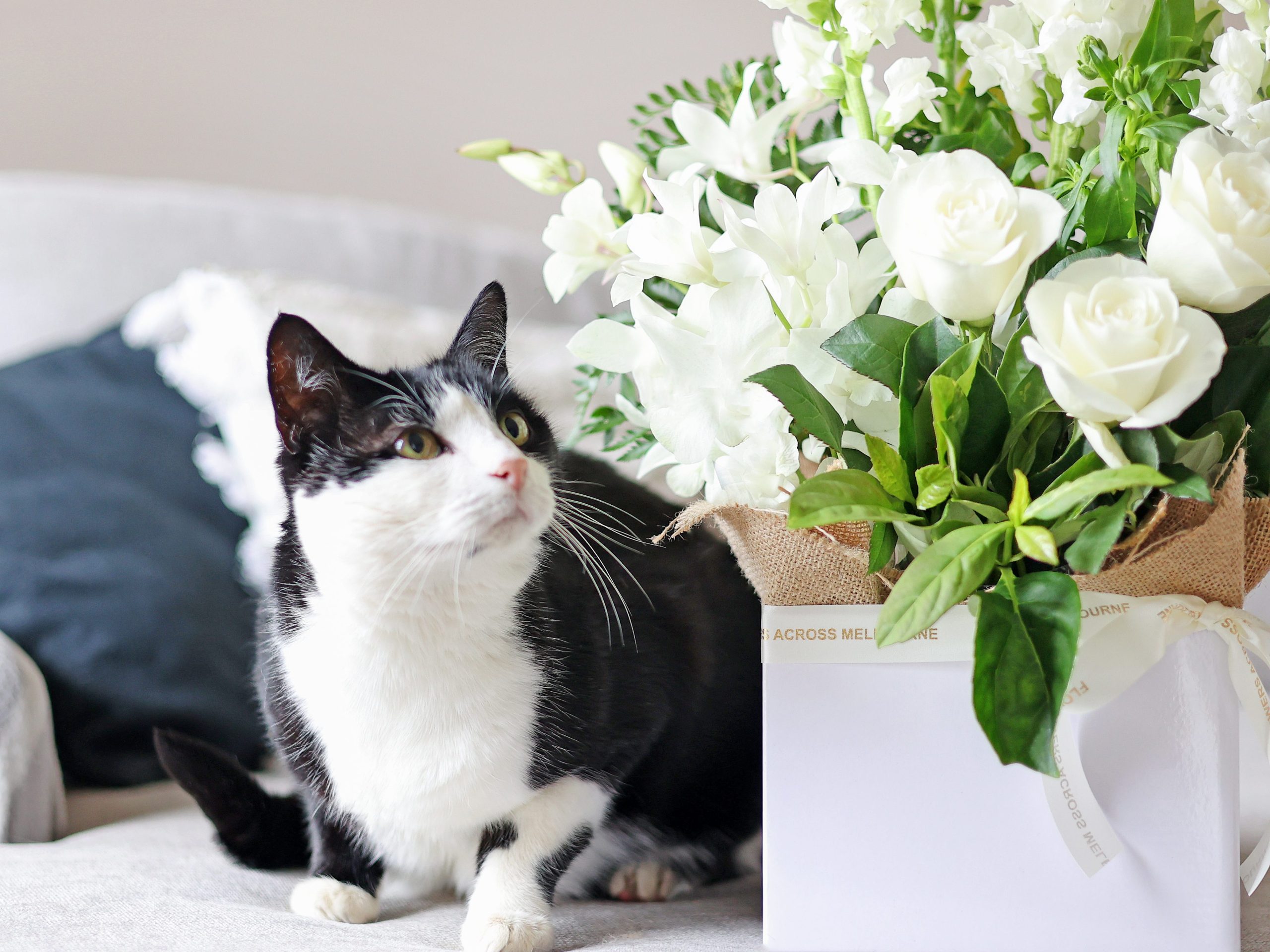 Do you love flowers and have a cat or dog? Do you know which flowers are pet-safe, and which flowers are toxic? Well, we can tell you. Here at Flowers Across Melbourne, we love flowers (of course), and we also love-love-love our pets! We also know that some flowers and pets don't get along. Unfortunately with certain flowers, if your fur baby ingests even a small amount, it can cause health issues ranging from stomach upset to life-threatening organ failure.
If you're thinking of decorating your home with freshly cut blooms, or just received a surprise bouquet gift (lucky you!) the first thing you should do is to check if all the flowers in the arrangement are pet-safe. If you're sending flowers to someone with a pet, you should also check that they're safe before you buy.
It's true that some pets aren't interested in flowers or plants in general, and may have been around toxic flowers for years without issues. But some pets are chewers- they'll lick, chew or swallow anything within reach! They are the ones you need to watch out for the most.
So, we've put together this article to show you pet-safe flowers that you can bring home without worrying about the health and well-being of your furry family. You'll also find this article useful when looking for a wonderful gift of flowers for a loved one or a friend living with pets. Please note, this is not an exhaustive list but some of the most common blooms that may come in a bouquet.
Disclaimer: It is not our goal to provide professional veterinary advice. We recommend checking Animal Emergency Service's toxic flowers and plants list for more details.
15 Pet Friendly Flowers for Cat and Dog Owners
Ideally you should keep your floral arrangements away from your pet's reach. But what about when your doggo gets the zoomies? Cats are renowned for getting into tight corners and high places. You never know when you might turn around to see your furball munching on your lovely sunflowers, or even to see a whole vase come crashing down! If you have curious kitties or playful dogs in your home, here are pet-safe flowers you can buy:
1. Roses
You can never go wrong with roses when you're looking for a classic option that is also safe for your pets. Aside from being lovely, they are among the best scented flowers you can get delivered today. They come in a variety of gorgeous colours such as classic red, orange, yellow, pastels and pink. Roses are always a guaranteed winner when giving a gift of flowers.
Roses are commonly included in lists of pet-safe flowers, and you won't have to worry about fallen petals. Your cat or dog munching on them won't land you a trip to the vet.
2. Orchids
Did you know that orchids can create a calming environment? For centuries, these these gorgeous flowers have been carefully cultivated, despite being infamous for being difficult to grow. Orchid hybrids and varieties are generally safe for cats and dogs. One example is the wonderful Phalaenopsis orchid. Also referred to as the "moth orchid," this stunning flower is long-lasting and generally recommended for beginner gardeners. It's also a non-toxic plant for pets. You can usually buy orchids as potted plants, which can then live a long life safely in the same vicinity of precious pets.
3. Sunflowers
When you want to brighten someone's day, get them a bouquet of sunflowers. If the recipient is a fur parent, they'd be delighted to know that there's nothing toxic about these sunny beauties. Besides, a Texas A&M University study found that sunflower seed supplements can temporarily improve the hair and skin coat condition of dogs. So even if your pup accidentally ingests part of the plant, there won't be adverse effects. The worst thing that could happen is them having better-looking hair than yours!
It's always best to consult a veterinarian before adding any food supplement to your fur baby's diet.
4. Gerberas
If you love the colourful rays of gerberas, you'd be happy to know that they're also non-toxic flowers for cats and dogs. Like sunflowers, gerbera flowers also have edible petals. These cheerful blooms can be the perfect gift to uplift the mood of your friend or loved one, and even for yourself. The Celts believed these flowers could lessen the sorrows of everyday life. You can purchase a happy bunch of gerberas from Flowers Across Melbourne and have them delivered in a vase – same day delivery if ordered before 2pm!
5. Magnolia
Magnolia flowers are pet friendly. People usually grow magnolia shrubs and trees to give their gardens a show-stopping look. In time, the plant produces magnificent star-like flowers in different colours, including pink, white, purple and yellow. Their wonderful blooms bring a pleasant aroma to any space.
Thankfully, you don't have to be an expert gardener to enjoy the beauty of magnolias. These days, you can easily purchase magnolia bouquets from online florists, and many arrangements contain magnolia leaves mixed in with other flower varieties. However sometimes magnolias are paired with other blooms that are toxic to cats and dogs. So, be sure to check if the magnolias come with pet-safe flowers.
6. Lisianthus
Lisianthus flowers or prairie gentians look a lot like roses. They have delicate, multi-layered petals and a beautiful, soft shape. However, they carry different messages. While roses usually represent love and passion, lisianthus blooms traditionally signify gratitude. If you want to show your appreciation to a pet parent, lisianthus would be the perfect option because they're also pet-safe. In general, lisianthus flowers do not have toxins that harm cats or dogs.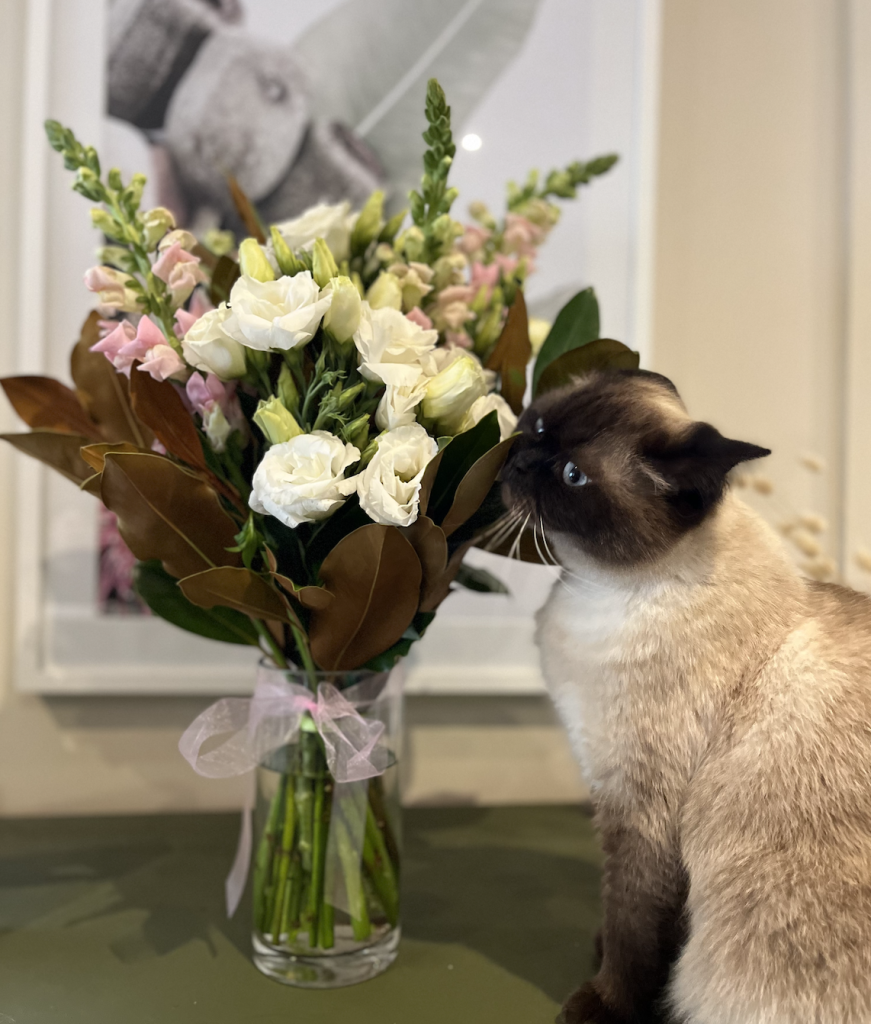 7. Snapdragons
When you're looking for pet-safe flowers to fill a floral arrangement, snapdragons are a great option. They're called snapdragons because their individual flower heads mimic the shape of dragon snouts. They add a lovely slender, tall variation to a mixed bunch of blooms. You can also grow them in patio containers or even use them as accents to your garden boxes, because their flowers are non-toxic to cats and dogs.
8. Veronica
Natively growing in Europe, Veronica flowers are tough ornamental plants that are also non-toxic to pets. Note that there are over 500 varieties under the Veronica genus. However, most of them are safe for animals and humans.
Probably the most popular species in this plant family is the veronica spicata or spiked speedwell. Because it is traditionally used as an herbal medicine in Chinese culture, studies have been done to discover its health benefits. Veronica plant and petal extracts have been proven to possess antioxidant, antimicrobial and antifungal properties.
9. Wax flower
You'll commonly find wax flowers are fillers for floral arrangements. Besides, they are non-toxic to dogs and cats. So, you don't have to worry if their dainty petals fall off your Wonderful World bouquet.
You'll usually find wax flowers in dark red or deep purple colours. They are wild plants that give off a citrusy scent. Moreover, they can last for almost a month even when you place them in a vase.
10. Asters
Asters are pet-safe flowers that naturally grow throughout the summer season in North America. They are non-toxic to animals and common pollinators. As such, gardeners plant them to attract natural predators like ladybirds and lizards to keep pests at bay. Asters are among the flowers you can grow instead of using pesticides.
You'll also love having asters in your garden, especially when they attract bees, butterflies and birds. Your dogs will have fun running around, chasing those elusive pollinators!
11. Freesias
Who wouldn't love the elegant, orchid-like beauty of freesias? These perennial flowers look great in pots or in gardens. They easily add character to any indoor space. Freesias can elevate the appearance of any room without causing harm to your fur babies. You'll love the citrusy scent radiating from the petals. If you don't have the time to cultivate the plant, you can purchase freesias as cut flowers. They come in various shades of yellow, pink, white, purple, mauve and blue.
12. Zinnias
Even if you have flower-munching fur babies around the yard, you don't have to worry because zinnias are non-toxic to animals. Besides, their daisy-like appearance and splash of colour make them an interesting addition to your garden.
Oh, and did you know? Zinnia flowers are part of the Veggie plant growth system on the International Space Station. They can easily become a conversation piece when you have guests around – tell them you have "space" flowers in your garden!
13. Stock
Do you want to express your deep affection for your special someone? Perhaps you're thinking of giving them pet-safe flowers, especially since they have cats or dogs in the house. Well, consider getting them a bouquet of stock flowers, because these classic blooms signify eternal love and devotion.
Stock flowers come from the same plant family as cabbages. Their spire-shaped blooms provide a wonderful contrast against their blue-green foliage. Because they're among the list of non-toxic flowers for cats and dogs, you can safely gift them to fur parents.
14. Pittosporum
Also known as the Australian laurel, Pittosporum is a genus of flowering plants that natively grow in Japan and China. It is also referred to as the mock orange plant because its pet-safe flowers look and smell like the blooms of citrus trees.
Because Pittosporum shrubs are evergreen, they can add a bit of substance to your landscape. You can even cultivate and maintain them as a yard hedge. Even when their dainty flowers fall on the ground, you can let your furry babies run around. They won't cause skin irritation or stomach upset when accidentally ingested by your pets.
15. Statice
Also known as sea lavender, statice flowers are commonly gifted to friends and loved ones to signify fond memories. They are commonly used as fillers in floral arrangements, especially since they last long as cut flowers in a vase. Bouquets with statice stems are the ideal gift for fur parents. However, make sure that the other flowers in the bunch are also safe for pets.
6 Highly Toxic Flowers for Cats and Dogs
As mentioned earlier, keeping plants – or anything- completely out of reach of your furry explorers is easier said than done. Of course you can't watch your pets every minute of every day. However, your pet's health and well-being are vital to a pawsitive life of fun, love and happiness. As Houndztooth founder Rachael Tricarico would say, "A healthy pet is a happy pet."
To help keep your four-legged babies healthy and happy, you should always avoid having these highly toxic flowers in your home, or when giving to a fur-parent:
1. Lilies
Although lilies are not toxic to dogs, if you have kitties in your home, you shouldn't have these flowers around—even in bouquets. You can read more in our article about the dangers of having lilies near cats to learn about the details. Unfortunately, these flowers generally cause vomiting, decreased appetite and even irreversible kidney damage to cats.
2. Chrysanthemums
While 'mums' easily uplift a mood and enhance a bouquet, they don't have the same effect on your pets. These flowers have compounds such as sesquiterpene and pyrethrin, which are not safe for cats and dogs.
3. Daffodils
Also referred to as narcissus, daffodils are flowering bulbs from the same plant family as amaryllis. Their blooms may be beautiful to behold, but they shouldn't be anywhere near your pets. Unfortunately, daffodil bulbs, stems and leaves can cause gastrointestinal issues in dogs and cats.
4. Hyacinths
Hyacinths may look wonderful as cut flowers in vases and bouquets. However, they contain narcissus-like alkaloids that can be toxic to dogs and cats. So, they can cause diarrhea, vomiting and tremors when ingested by pets.
5. Azaleas
Because azaleas have showy blooms, they are often cultivated as ornamentals. However, you shouldn't grow these flowering shrubs in your garden if you have cats and dogs. They can cause various gastrointestinal issues to our four-legged friends. When accidentally ingested, azaleas can also cause heart problems and generalised weakness.
6. Tulips
While all the parts of a tulip are harmful to cats and dogs, its bulb contains the highest toxin concentration. So, it's best not to include them in your spring garden. Otherwise, having tulips around may cause appetite loss, drooling, gastrointestinal upset or heart problems.
Frequently Asked Questions about Pet-Safe Flowers
Q: Are native Australian flowers safe for cats?
Many native Australian flowers are safe for cats. Some examples include Grevillea and Banksia. However, not all flowers that natively grow in the country are safe for kitties. For instance, flannel flowers and kangaroo paws can cause gastrointestinal irritation when accidentally ingested.
Q: What plants are toxic to cats in Australia?
We recommend checking government sites like Animal Welfare Victoria to get a full list of toxic plants for cats. However, the most common flowering plants that you should keep from your cat's reach include hyacinth, amaryllis, bird of paradise, lilies, and hydrangea.
Q: Can you have flowers around your dogs?
Yes, you can have flowers around your dogs. However, make sure that you choose blooms that won't cause harm to them. Some pet-safe flowers include snapdragons, roses, sunflowers and gerberas.
Q: What Australian plants are poisonous to dogs?
Kangaroo paws, euphorbias, oleanders, Australian wattles, wild parsnips and certain Rhododendron species are toxic to dogs. This list is not extensive, so we recommend asking your local veterinarian about the plants to avoid when you live with dogs.
Q: What is the most toxic flower to cats?
Lily is the most toxic flower to cats because all of its parts can cause harm to felines.
Q: Are roses safe for cats?
Yes, roses do not have harmful compounds that can cause health issues in cats.
Q: Is lavender OK for dogs?
Lavender is toxic to dogs because it contains linalool, a compound that can cause liver damage.
Turn to Flowers Across Melbourne for Pet Safe Flowers
If you're planning to purchase blooms, for your own home or for someone else, choose from Flowers Across Melbourne's collection of pet-safe flowers. Flowers Across Sydney also have a pet-safe range. We have bright sunflowers, elegant roses and colourful gerberas that won't cause harm to your fur babies. Plus many more pet friendly varieties. Even if your playful doggo chews on the stems, or curious kitty eats the fallen petals, you can have peace of mind that they will be ok.
Any fur parent would know that it's sometimes a challenge to keep your fur baby away from plants, especially on a walk or in someone else's home. If your cat or dog accidentally chews or ingests a toxic flower, or if you're unsure, take action immediately. Contact your local vet or bring your pet to the nearest animal emergency service clinic.