Losing a loved one is never easy, and finding the right words to express our condolences can be challenging. Sympathy flowers have long been a powerful way to convey our heartfelt emotions and offer comfort during difficult times, but how do you choose the perfect arrangement to honor the memory of the deceased? This comprehensive guide will walk you through the process of selecting, personalizing, and sending sympathy flowers online, ensuring your heartfelt message reaches its intended recipient.
In this blog post, we will explore various types of sympathy flowers, funeral wreaths, and floral arrangements. Additionally, we will provide guidance on adding personal touches to your sympathy flowers and trusting skilled florists to create meaningful condolence arrangements. Let's begin our journey towards finding the perfect way to express our deepest sympathies.
Key Takeaways
White roses, lilies and orchids are all popular sympathy flowers that can express heartfelt condolences.

Traditional funeral wreaths and casket sprays crafted by expert florists convey love, respect and admiration for the deceased.
Choosing the Right Sympathy Flowers for a Heartfelt Message
The right choice of sympathy flowers plays a vital role in expressing your heartfelt condolences and support during challenging times. Traditional selections for fresh condolence flowers include roses, lilies, and orchids, with our customers most frequently choosing white and pastel shades from our sympathy flower collection, though we're also seeing a trend towards brighter arrangements that carry significance in celebrating a loved ones life well lived.
Let's delve deeper into the meanings and significance of these popular sympathy flowers.
Roses
Roses are a classic selection for sympathy flowers, symbolising love and respect. The particular symbolism of roses as sympathy flowers may vary depending on the colour. Red roses communicate love and respect, white roses denote spirituality and purity, and peach roses signify sincerity and gratitude.
Confiding in professional florists ensures your rose arrangement communicates your intended heartfelt message to the grieving family.
For more on the meaning behind every colour of rose, view our guide.
Lilies
Lilies are another popular choice for condolence flowers, often representing purity, innocence, and in some cultures or religions the tranquil state of the soul of the deceased. Some commonly utilised lilies in sympathy arrangements include:
White oriental lilies

Stargazer lilies

Asiatic lilies

Easter lilies
Orchids
Orchids offer a unique and exotic alternative for sympathy flowers, symbolising everlasting love, unending affection, and reverence for the deceased. Pink and white orchids are the most suitable type for condolence bouquets, as they symbolise innocence and are frequently chosen for sympathy flowers.
Funeral Wreaths and Floral Arrangements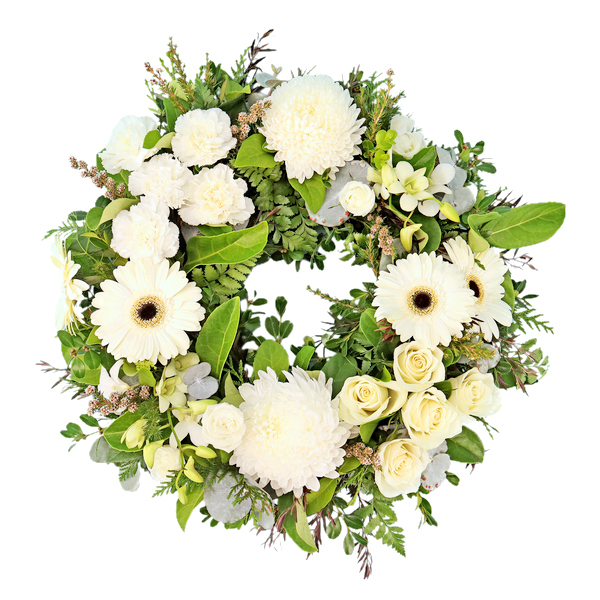 Beyond individual sympathy flowers, funeral wreaths and floral arrangements also contribute significantly to honouring the memory of the departed. Options for funeral wreaths and floral arrangements include traditional wreaths and casket sprays. Both options serve as beautiful tributes during the funeral service, expressing respect and admiration for the departed.
Let's explore these arrangements in greater detail.
Traditional Funeral Wreaths
Traditional funeral and floral wreaths are fashioned from a combination of seasonal flowers, carefully intertwined to form a circular shape. The circular shape of the wreath symbolizes eternity, without a start or finish, and serves to honor the deceased and demonstrate respect and everlasting love. These floral wreaths, with their beautiful arrangements, play a significant role in conveying heartfelt sentiments during a funeral service.
Casket Sprays
Casket sprays are floral arrangements specifically designed to be placed on top of a casket during a funeral service. They serve to decorate the coffin and signify love, sympathy, and respect for the deceased. Some common flowers used in casket sprays include:
Roses

Lilies

Sunflowers

Carnations
These flowers are chosen for their beauty and symbolism, and they help create a meaningful tribute to the person who has passed away.
For more information on funeral flowers, including what to be aware of for difference types of religious services, view our comprehensive guide on funeral flowers
Adding Personal Touches to Your Sympathy Flowers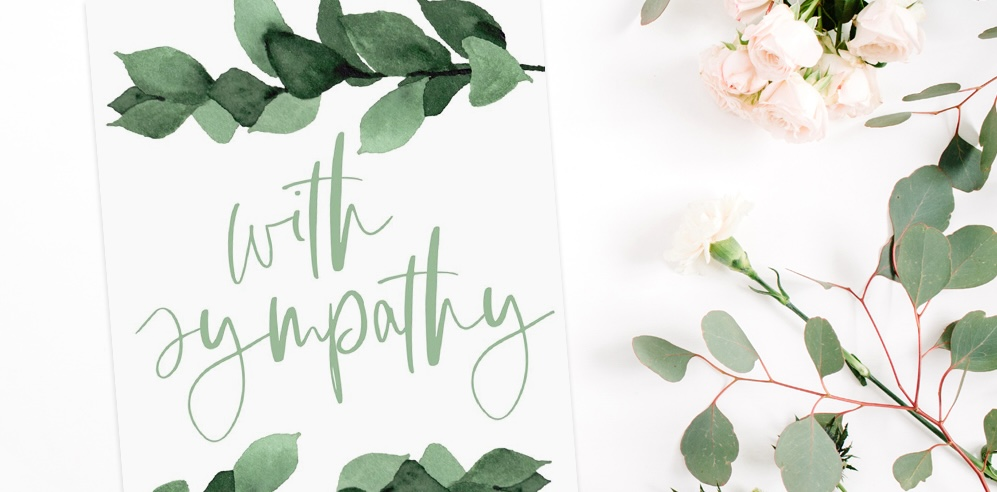 Adding a personal touch to your sympathy flowers can significantly enhance the conveyance of your heartfelt condolences. Meaningful card messages, customised arrangements, and additional sympathy gifts can all help to create a unique and comforting tribute to the deceased.
Writing a Meaningful Card Message
Crafting a heartfelt message to accompany your sympathy flowers is an important aspect of personalisation. When composing a message, consider phrases such as 'May peace and comfort find you at this difficult time', 'You have our deepest sympathy', or 'In loving memory' to demonstrate your condolences and support to the recipient. Your words can offer comfort and solace to those who are grieving, making the flowers even more meaningful.
Customising Flower Arrangements
Customising sympathy flower arrangements to reflect the personality and preferences of the deceased can make your tribute truly unique. Consider incorporating special touches such as:
Ribbons

Bows

Ornaments

Other decorations
You can also select a specific colour scheme or flower type to make the arrangement more personal.
Collaborating with professional florists guarantees your custom arrangement is both aesthetically pleasing and significant.
Trusting Skilled Florists for Your Condolence Flowers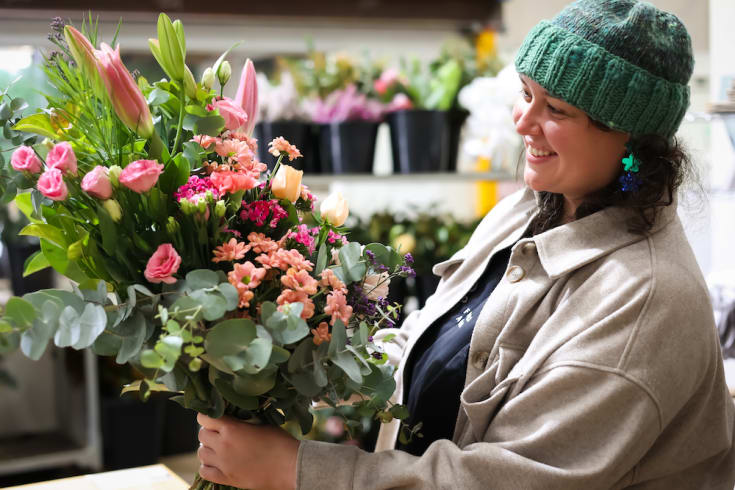 Confiding in professional florists with your condolence flowers guarantees your heartfelt emotions are expressed with utmost care and dedication. Florists possess the knowledge and experience to create beautiful and meaningful arrangements, guaranteeing that every detail is precise and reflects your love.
Expertise in Bereavement Occasions
Florists who specialise in bereavement occasions possess the creativity, design skills, and sensitivity required to create beautiful and meaningful sympathy flower arrangements. Their expertise allows them to comprehend and satisfy the needs of grieving customers, ensuring that the arrangements are tasteful, elegant, and respectful.
Commitment to Quality and Freshness
Skilled florists (like us at Flowers Across Melbourne) provide fresh, high-quality flowers for your sympathy arrangements. They take measures such as cutting the stems prior to placing them in water, removing any extra leaves, and providing fresh water and flower food to ensure the quality and freshness of your flowers.
How to Order Sympathy Flowers Online
Expressing your condolences during challenging times is made convenient and efficient by ordering sympathy flowers online. By choosing a reputable online florist, placing your order, and completing payment and confirmation, you can ensure that your sympathy flowers are delivered promptly and with care.
Choosing a Reputable Online Florist
Selecting a trustworthy online florist with a large sympathy flower collection is crucial in ensuring a positive and secure shopping experience. Here are some factors to consider:
Look for favourable customer reviews

Check for a broad assortment of fresh flowers

Ensure the website is secure and convenient to use

Confirm that prompt delivery is offered

If you need it in a hurry, make sure they have a same day delivery service available

Look for outstanding customer service
Opting for a reputable online florist ensures your experience will be seamless, your flowers beautiful and that your sympathy flower delivery will arrive at their destination on time.
Placing Your Order
When placing an order for sympathy flowers online, be sure to:
Address the flowers to the recipient

Personalise the card with a heartfelt message or condolence message

Add any special instructions or requests for the arrangement and delivery, especially if you need your flowers to be at a funeral by a specific time

Consider including additional gifts to further enhance your sympathy gift.
Taking the time to personalise your order guarantees your sympathy flowers provide comfort and support in challenging times.
Payment and Confirmation
Completing payment and receiving confirmation for your sympathy flower order is a crucial step in ensuring timely delivery. Most online florists offer a variety of payment methods, such as:
Debit cards

Credit cards

PayPal

AfterPay
After submitting your payment, you will typically receive an email or SMS confirming your order and some florists will provide order delivery tracking for peace of mind.
Summary
In conclusion, sending beautiful sympathy flowers is a meaningful way to express your condolences and offer comfort during difficult times. By choosing the right sympathy flowers, funeral wreaths, and floral arrangements, and personalising your tribute, you can create a lasting reminder of your love and support. Trusting skilled florists and who provide a same day flower delivery service further ensures that your heartfelt sympathy message reaches its intended recipient promptly and with care.
And of course, if you ever need sympathy flowers delivered in Melbourne, Sydney or Brisbane please visit our Flowers Across™ sites for a comprehensive range of beautiful condolence flowers and funeral flowers:
Send Sympathy Flowers Melbourne
Sympathy Flowers Delivery Sydney
Buy Sympathy Flowers Brisbane
Frequently Asked Questions
What flower represents sympathy?
White Lilies are commonly associated with bereavement and symbolise innocence, rebirth of the soul, purity and sympathy. The Oriental lily in particular is a popular flower that signifies sympathy.
What is appropriate for sympathy flowers?
Sympathy flowers should be chosen with care; commonly used are lilies, roses and and orchids. Bright coloured flowers should be used sparingly to maintain the atmosphere of the funeral. Other appropriate options include gladioli, carnations, chrysanthemums, peace lilies, orchid plants, hydrangeas, gerberas, daffodils and tulips. Nowadays plants are also a popular gift option during a difficult time.
What types of flowers are most commonly used in sympathy arrangements?
Roses, orchids, and lilies are the most popular choices when selecting sympathy flowers.
How can I personalise my sympathy flower arrangement?
Personalise your sympathy flower arrangement with a meaningful card message (view our helpful sympathy card writing guide here), customised designs, and additional gifts for an extra thoughtful touch.
What is the cut-off time for same-day sympathy flower delivery?
The cut-off time to send sympathy flowers is usually in the early afternoon, ensuring timely delivery, but if you need your flowers delivered earlier you should reach out to your florist as they can often make special delivery arrangements for you.