Gardening is a relaxing and creative activity. It is also a great skill to hone if you have a little bit of free time and some extra space in your home. Whether you enjoy growing succulents and cacti, blooming plants, or vegetables and spices, there's no better place to learn about them than YouTube.
More and more botanists and experienced gardeners are sharing their knowledge on YouTube and for a good reason. People love watching videos, especially if they are informative and entertaining.
In this day and age, finding the right time to read a long article or a book can be a challenge, but watching a YouTube video is much more convenient. You can do it before bed, during a work break, while you're cooking, and even while you're cleaning your house.
If this isn't a good enough reason to start watching the following YouTube channels, you might want to know that these talented YouTubers will teach you everything you need to know about growing different plants, propagating them, enhancing their growth, avoiding pests, and many tips and tricks that will help you become a more successful gardener.
So, without further ado, here are some of the best gardening YouTube channels that you shouldn't miss:
Succulents and Sunshine is a very nice and friendly channel created by Cassidy Tuttle, who is a photography enthusiast and, of course, a succulent lover. She has a lot of experience with these adorable plants and her videos are full of useful information about different types of succulents, their needs, and how to save them if you've accidentally hurt them.
Cassidy also makes videos about creating succulent arrangements. If you're going to check out her channel, you'll be able to learn how to create cold-hardy succulent arrangements, how to design large arrangements, how to make a succulent wreath, and other cool stuff.
Overall, her channel is perfect for beginner gardeners who just bought their first succulent, but also for more experienced succulent growers who are looking for new and creative DIY projects that involve these versatile plants.
Succulents and Sunshine get extra points for reading and responding to their comments and for offering valuable advice to their viewers.
Summer Rayne Oaks' YouTube channel was created in 2017 and it gained quite an audience since then. And that's not surprising considering how helpful and informative the videos are. The channel features hundreds of videos about houseplants and, according to the channel's creator, its mission is to create a connection between people and plants through high-quality, engaging, and entertaining content.
On this channel, you'll find 101 Plant Guides, that are perfect for beginner gardeners, but also tips and tricks for more experienced gardeners. We enjoyed the plant unboxing videos and the amazing playlist '365 Days of Plants', which we think it's a fascinating project. If you love houseplants you'll surely binge- watch this playlist and share it with your plant-loving friends.
Summer Rayne Oaks gets bonus points for helping people learn about hundreds of amazing houseplants and for being super helpful and informative.
Desert Plants of Avalon is a great YouTube channel created and hosted by Lyn, a charismatic Cacti and Succulent Horticulturist. Lyn has almost 40 years of experience in growing and caring for succulents and cacti. On her channel, you'll find thousands of videos about growing, propagating, and repotting succulents, cacti, air plants, and other houseplants.
If you're a beginner gardener, Lyn will help you learn the basics of succulent and cacti care and if you're an experienced gardener you'll surely enjoy watching her product reviews and her carnivorous plants videos. We sure did.
Desert Plants of Avalon gets bonus points for uploading videos almost daily and for featuring valuable advice from an experienced horticulturist.
Kaylee is a very talented YouTuber. You can tell that she's a plant lover and, according to her channel's description, she's passionate about aroids. Her channel is a great resource for beginner, intermediate, and even experienced gardeners. She posts new content on a weekly basis and it's pretty much impossible not to find something interesting on her channel.
We really enjoyed watching her Plant Hauls and Unboxing videos and her rare plant videos. If you're looking for an upbeat channel about houseplants, Kaylee Ellen is a perfect choice.
Kaylee Ellen gets bonus points for having a great rare plant shop.
With 1.04 million subscribers, Garden Answer is a successful flower YouTube Channel. Laura is the face of the channel and she's really charismatic. Her videos are informative, engaging, and entertaining.
Laura's channel is divided into seasons, so you'll be able to watch 7 seasons of high-quality content created over the last 7 years.
Laura's channel is quite diverse so you'll find a little bit of everything here. If you have outdoor plants, you have to check this channel out. But even if you don't, you'll surely find useful information on this channel and entertaining videos such as 'Plant unboxing' videos, DIY projects, and other home projects.
Garden Answer gets bonus points for being super entertaining and for its seasonal content.
JoyUsGarden is a very friendly outdoor and indoor gardening channel created by Nell Foster whose goal is to inspire all plant lovers and to offer valuable tips and ideas to help them 'get their horticultural groove on'.
Watching Nell's videos is a true pleasure. If you're a beginner gardener and you're looking for an easy-to-care-for plant, you should check out her Succulent Care Guide videos and her Small Indoor Plant Care
videos. If you already have some experience, you'll enjoy her DIYs with Succulents videos and her seasonal DIY projects.
It's worth mentioning that on this channel you can learn about a wide range of houseplants including Christmas Cacti, Bougainvillea, Aloe Vera, Air plants, Bromeliads, etc.
JoyUsGarden gets extra points for being inspirational and for sending good vibes.
Logee's Plants is a YouTube channel created by Byron Martin, a passionate horticulturist, and owner of Logee's Greenhouses, located in Danielson, CT. On this channel, Byron shares great tips and tricks, and guides on how to grow and care for some of the most beloved plants in the world.
We really enjoy learning new things from Byron. He seems like a great guy and his videos are very engaging and informative. Our favorite videos were the ones about Rare & Unusual plants such as the Pink Princess Philodendron, Hoya plants, and Mimosa pudica and his comprehensive 2-part guide on growing Monstera Variegata (if you're on Instagram a lot, you surely know this plant).
This channel is a great resource for beginner and intermediate gardeners. But we think experienced gardeners will find something interesting here as well.
Logee's Plants gets extra points for Byron's experience, insight, and passion.
'Just a regular guy who loves plants and sharing my houseplant journey and crazy plant life with all of you.' – this description sums it up perfectly. This plant channel was created by Christian in 2017. We watched his very first video and we feel obligated to tell you that he's not crazy, he just really likes plants. His videos are enjoyable, he is a likable YouTuber, and we recommend his channel if you want to learn more about trendy and Instagrammable plants like Monstera, Ficus Elastica, Pilea Peperomioides, Orchids, and many more.
Christian's channel 'Crazy Plant Guy' is a good resource for beginner gardeners who want to start growing exotic houseplants and who want to add some nature to their homes. We enjoyed watching his videos and we're sure you'll like them as well.
Crazy Plant Guy gets extra points for having an impressive collection of plants and for sharing it with us.
This channel is very helpful for beginner florists who want to learn more about their houseplants. On this channel, you'll find plenty of useful information about growing and caring, propagating, choosing the soil, and watering plants such as Dracaena, Ficus, Yucca, Adenium, Orchids, Cacti, and Succulents.
We watched some of the videos here and we liked '5 Common Mistakes in Cactus Care', 'Cactus Flowering Secrets', and 'Mammillaria Cactus Rejuvenation'. The rumors are true! We do like cacti and we spend way too much time watching YouTube videos about these tiny plants.
AzFlora ENG gets bonus points for presenting a lot of interesting and unique species of succulents, cacti, and other tropical houseplants. If you already have the most popular types and are looking for more exotic cultivars, check this channel out.
This YouTube channel is a family project created by Ann and her family who describe themselves as a group of 'Plant & Garden Geeks' and who love everything 'Green & Geeky'. The channel is very cool and to us, it's pretty obvious that Ann and her family put a lot of time and effort into it. The videos are very informative, the video quality is great, and watching Ann talk about plants is delightful.
On this channel, you'll find plenty of videos for beginners, DIY projects, and tips and tricks videos. We enjoyed watching Gardening with Kids, which is a small playlist of 5 videos. If you have kids, we recommend this playlist
Geeks of Green gets extra points for teaching us about the importance of letting our kids experiment in the garden and for putting a lot of effort into building a community of people who share the passion for gardening.
If you're skimming this article and you love tropical plants, we recommend checking this channel out because we guarantee that you'll love it. Paul's channel is all about exotic plants that can be grown in warm climates. According to the channel's description, the goal is to educate and to inspire plant lovers who want to grow unique houseplants.
You'll find hundreds of videos on this channel about houseplants like succulents, cacti, Aeoniums, etc, but also about tropical plants that can be grown outdoors. We enjoyed watching every single video that Paul created, but our favorites are 'Tasting 'K' Dragon Fruit and Review' and 'Black Dragon Fruit'. Paul has over 100 varieties of dragon fruit and created his own hybrids.
What Plant is that Paul gets extra points for being the 'Steve Irwin' of exotic plants.
This YouTube channel is hosted by the lovely Shirley Bovshow, a professional landscape designer and garden TV personality. According to the description, the EdenMaker channel is perfect for new gardeners, especially urban gardeners, who want to learn more about this fascinating topic.
It is safe to say that you'll find a bit of everything on this channel, from basic vegetable gardening tutorials to tropical plant care and propagation, and tips and tricks about soil, starting plants from seed, and how to create miniature gardens. We dare you to find a gardening topic that Shirley Bovshow hasn't already discussed on her awesome channel.
So, if you want to learn the basics of gardening with a focus on indoor houseplant care, you have to add this channel to your list of favorites.
EdenMaker gets extra points for their weekly live stream called 'Ask Shirley' that features garden questions and answers and plant care lessons.
Miss Orchid Girl is another great gardening YouTube channel hosted by Danny, who is an orchid expert. So, if you love orchids but are still a novice gardener, this channel will help you learn the basics of growing these beautiful plants and about watering, repotting, and fertilizing them.
Miss Orchid Girl is a great resource for gardening beginners who want to learn more about orchids. A great thing about this channel is that experienced gardeners will also find it entertaining and informative. Miss Orchid Girl uploads new content on a weekly basis and she has hundreds of videos about different types of orchids, orchid maintenance, identification, treatment, repotting, Q and As, and How-To Videos.
If you are curious about Dendrobium and Phalaenopsis Orchids, then this channel is exactly what you need. It's worth mentioning that Danny has a secondary YouTube channel where she talks about other types of plants. So, if orchids are not your cup of tea, check out Miss Orchid Girl Houseplants.
Miss Orchid Girl gets bonus points for posting fresh content every week and for showing us awesome varieties of Orchids.
If you love exotic plants and can't get enough of the Boho/Jungalow interior décor style, then you have to check out Planterina. This YouTube channel is all about Monstera, String of Pearls, Hoya, and other plants with lush and unique-looking foliage.
This YouTube channel is perfect for beginners and for urban gardeners who want to bring nature into their lives. Amanda, the channel's host, will show you how easy caring for tropical plants can be. She will also give you valuable tips and tricks that will help you keep your plants healthy and happy.
The greatest thing about this channel is that it's not just for gardening enthusiasts, but also for interior designers who want to learn more about the most aesthetically pleasing plants. We enjoyed watching Amanda's videos about transplanting a massive Monstera deliciosa and she really made us want to redecorate our homes Jungalow style.
Planterina gets bonus points for giving us the possibility to purchase the plants that we see in their videos. If you want to buy cool plants from Planterina, you can head over to their online store (they offer free shipping).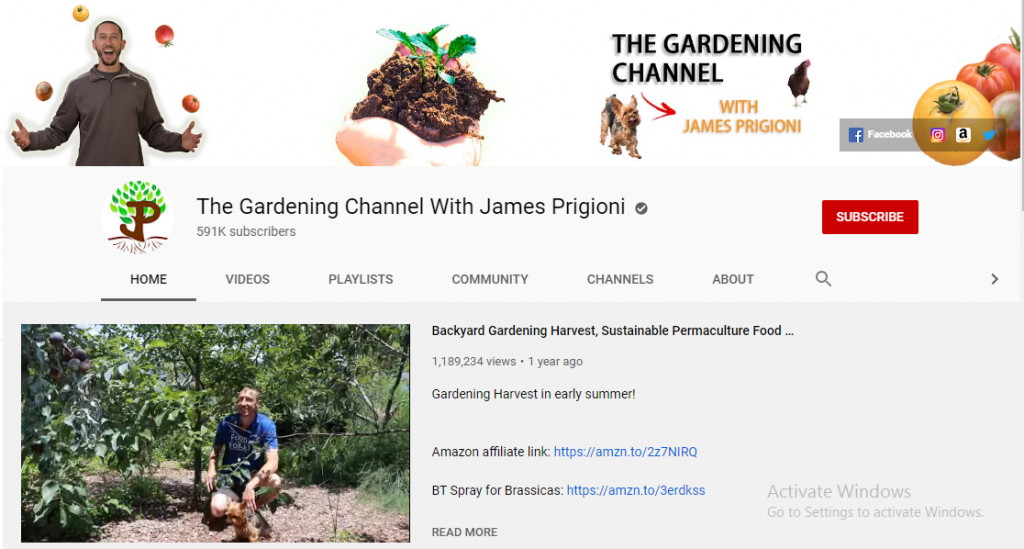 Created by James Prigioni, this YouTube channel is among our favorites. James is passionate about organic gardening and about protecting nature and working alongside it. If you want to create your own vegetable garden that's free of pesticides, herbicides, fungicides, antibiotics, and other harmful substances, you need to check this channel out.
You could say that this channel is aimed at people who want to grow their own food, but the truth is we all have something to learn from James. The food that we buy from the supermarket is laden with pesticides and GMO's and that's where many of our health problems come from. Luckily, there are a few healthy alternatives, and James is happy to share his knowledge to help us become healthier.
We really enjoyed learning about raised beds, making compost, and permaculture gardening from The Gardening Channel and we think you'll do too.
The Gardening Channel With James Prigioni gets bonus points for being environmentally-friendly and for promoting organic gardening.
There's no better place to learn about growing and harvesting vegetables than from Charles Dowding. With over 38 years of gardening experience, Charles focuses on the 'no-dig' gardening technique. His technique is suitable for all types of soil and it has many benefits such as fewer weeds to worry about and a more effective growth process for both flowers and veggies. Furthermore, the 'no-dig' method is eco-friendly because the carbon is preserved in the soil.
So, if you want to grow delicious food without putting in a huge amount of unnecessary effort, we recommend watching this great channel. You'll learn the basics of 'no-dig' gardening and seasonal cropping and how to grow a small garden without wasting time, money, and effort. And besides, he has also written ten books and sell two online courses.
Charles Dowding gets extra points for having teacher skills, for being a great host, and for having 38 years of experience in the field of horticulture.
This is one of those YouTube Channels that you find by accident and spend a few good hours watching until you realize that you're late for work. Ekta, the host of the Garden Up channel is a researcher, an Ecology expert, and an entrepreneur from Mumbai. On her channel, Ekta is sharing her unique experience with growing food at home, propagating indoor plants, and growing vegetables and herbs indoors.
Garden Up is a diverse channel that has something for everyone. You'll find all sorts of tutorials, experiments, and DIY projects here, as well as valuable gardening advice from Ekta, whom you'll love instantly. We binge-watched her channel and loved all her videos but our favorites were 'Microgreens from Indian Kitchen' and the videos from the Garden Science playlist.
Garden Up gets bonus points for mixing science with gardening and for offering content that's both educative and entertaining.
First off, this channel has an awesome name! But that's not all. Pick Up Limes is a great YouTube channel created for minimalists, foodies, travelers, and all beautiful souls (according to their 'about' section). We sure are at least one of those things; we won't say which one, so we had to check it out.
The creator and host of Pick Up Limes, Sadia, is very charismatic and it's a pleasure to watch her talk about plants, food, and lifestyle. We recommend her 'Houseplant Care Tips for Beginners' and 'Plant Propagation for Beginners' videos. If you're not a beginner, you'll surely find something nice to watch on her channel.
Pick Up Limes gets bonus points for being super-enjoyable to watch while eating breakfast in bed.
Harli G is an awesome YouTube channel where you'll find Plant care 101 guides, houseplant collection tours, houseplant care vlog, houseplant hauls, houseplant shopping vlogs, DIY, terrariums, and pretty much anything you can think of.
You can watch this channel while you're doing chores and while you're eating breakfast and you'll immediately feel energized and motivated. Harli is a very positive person who loves indoor plants and who's generous enough to share parts of her daily routine with us. We love her channel and we would have loved it even if we weren't passionate about plants.
So, whether you're a beginner gardener, an interior designer, a busy mom, or a troubled teenager, Harli's videos will put a smile on your face and will make your day better.
Harli G gets bonus points for being positive and for sharing interesting stuff with us.
Disclaimer: this is a boyfriend-friendly gardening channel. Although the about section doesn't tell us much about this interesting channel, we had to add it to our list. This is a family-friendly channel that everyone will enjoy.
You'll find a lot of cool videos on Techplant. Our favorites are 'How to Grow Toiletpaper', 'How I Feed My Carnivorous Plant Collection', and 'How to Make a Mini Orchid Planter'. You'll find plenty of DIY project ideas that involve plants, interesting experiments, and tips and tricks about growing different houseplants.
Techplant gets bonus points for teaching us a lot of interesting things and for making gardening fun for the whole family.
If you're looking for new plant-related DIY projects, you should check this channel out. According to the description, the channel is divided into three main categories. The first part is about teaching people how to grow plants, how to transfer them from one container to another, what each plant is used for, and other interesting facts.
The second part is about being creative and showing different things that plant enthusiasts can do such as making fairy gardens and decorating them. The third part is about being creative but also professional by focusing on building a home-made house from unconventional objects and materials.
That sounds pretty compelling, so we went ahead and watched a few videos. The projects are cool, they are worth trying, especially with your kids, but we would have loved to hear a friendly voice giving us the
instructions.
This channel gets bonus points for creativity and for being a fun way to spend time with your kids.
Lessya's Leaves is a cool plant channel created by 21-year old Alessya who loves and has an impressive collection of houseplants. You'll find plant unboxing videos, beginner guides, plant hauls, repotting tutorials, plant shopping, and pretty much anything you can think of.
What makes this channel special is Alessya's passion for plants and her good humor. We watched some of her videos and we were surprised to see that she included her grandma in one of them, which was adorable.
Lessya's Leaves gets bonus points for being a good role model and for helping young people find their passion for plants.
The Houseplant Chronicles is a great flower channel created by the wonderful Mina Brinkey. The channel is dedicated to all the people who want to add the beauty of nature indoors without sacrificing their design. We love Mina because she offers great advice, especially when it comes to mixing design and nature and creating unique and beautiful spaces.
If you love plants and interior design, this channel is binge watch-material. Our favorite videos were 'Plants that Stand the Test of Busyness' and 'How to Decorate with Plants'. If you're a beginner gardener you'll also love her Plant Care Tips videos.
The Houseplant Chronicles By: Mina Brinkey gets bonus points for successfully combining two of our favorite topics: flowers and interior design.
This is a great channel where you'll find houseplant tips for beginners, plants unboxing, and plenty of indoor gardening tips and tricks. You'll also find a great playlist called 'Plant of the Week' where you'll find videos about the most popular houseplants including Peperomia tetragona, Calathea musaica, Hoya australis, Philodendron mayoi, and many more.
If you're a beginner and want to find out more about the coolest and easiest to care for houseplants, Nick's your guy. He's super nice, he offers valuable advice, and his videos are easy to watch.
Nick Pileggi gets extra points for talking about many interesting houseplants.
Because we wanted our list to be as diverse as possible, we decided to include this channel, which is quite different from the others. First off, this channel doesn't have a host, so you won't learn any interesting facts. As the title suggests, on this channel you'll find HD videos of succulents.
Succulents are really pretty and we enjoyed looking at some of these videos, especially the 'Kalanchoe Orgyalis' and the 'Echeveria Black Prince'. So, if you want to look at succulents all day on a huge screen, this channel is the perfect option.
Succulents HD gets bonus points for showing us a nice succulent collection.
Which gardening YouTube Channel is your favorite? Let us know in the comments.